About me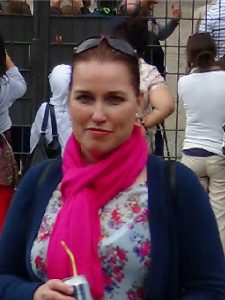 I'm Lucienne Bulthuis, model maker and founder of Minitec. As you might have read on the page About Minitec I have more than 20 years of experience in model building, the first 11 years as a designer/model maker for the architectural firm T+T Design and since 2007 with my one-man business Minitec. During those twenty odd years, I have made many types of models on various scales, and I have often done additional design work as well. I mainly work for project developers, architects and municipalities, but recently I have also made some models for a museum.
People have often asked me how I became a model maker. After all, it is not something that many people can put on their resume, possibly because there are no formal model making training programs in the Netherlands. Below you can read, how I did it.
From architect to model maker
As long as I can remember I have loved handwork and crafts and already in kindergarten, I revealed myself as a real creative talent. When my parents came to school for a parent-teacher evening, they could easily pick my creations out of all the craftwork the children had made, whether it was a 'Sinterklaas' made of a plastic yogurt cup, or a ceramic Easter bunny. Especially because my art works were neater and more accurate than one might expect of a toddler. Perfectionism and an eye for detail are two qualities I already displayed as a child and these are an absolute must for this profession.
Having the desire to get a job in the creative industry, I went to study architecture at TU Delft and it was there, where my fascination for model making began. It soon became an indispensable design tool for me, because by making sketch models, I could immediately analyze the spaciousness and proportions of a design, far better than with a perspective. Even though you have to make a lot of models during this study and you learn all about construction and how to develop your creativity to a higher level, it still is not the usual way to become a model maker. None of the students of my class made the same career change, neither do I know other model makers, who have the same diploma.
After graduating, I tried to find a job as an architect, like I was supposed to, even though I already knew that I 'd rather become a model maker. For my job interview at T+T Design I had brought one of my models, as an example of what I was capable of. Impressed by what they saw and by my educational background, they hired me on the spot. I joined them as a designer and one of my first assignments was to build a model. Many more models followed. Eventually it resulted in my own model making department.
In the beginning, I mainly made sketch models or models in an early design stage, which I often gave my own creative twist. However, now and then Multi Development cooperation, the company T+T Design exclusively worked for, asked me to make a detailed presentation model, that they needed for a fair or a contest. These were often models of complex shopping malls, that became a new challenge for me, not in the least because it was often hard to fit the enormous amount of work within the usually extremely tight schedule of the developer. I had to make long hours to finish them in time and while working on them, there was just not enough time to make study models for the architects of T+T Design as well. With the increasing work load there, this slowly became a serious problem, that eventually turned into an unsolvable dilemma for me. So after eleven years our ways parted, after which I set up my own company: Minitec.
From the above story, you could conclude that I am only interested in making detailed, architectural models, or realistic dioramas. Nothing could be further from the truth. I also like to saw and sand the houses for a wooden urban model or to make abstract models. They require a different kind of creativity, which can be nice for a change. In principle, I accept all assignments as long as it fits into my planning schedule. However, no matter which type of model I make, I will always commit myself to the project with the greatest care and passion.

"Quality is key and for me a model is only succesful, if a customer reaches his goals with it."